The Protected Plant: Assessing cyber security risk and building your roadmap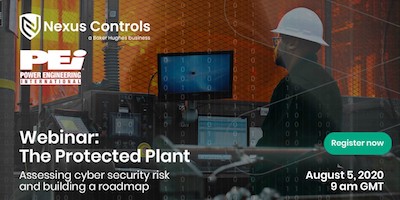 Date: Wed, Aug 5, 2020 5:00 PM – 6:00 PM CST
---
The old adage "you can't manage what you can't measure" is a fitting statement when it comes to industrial cybersecurity. You're required to have a complete understanding of industrial vulnerabilities, threats, and their impacts, as well as address an increasing amount of mandated security compliance requirements.
With the acceleration of remote operations, digital transformation initiatives, and the convergence of IT/OT, assessing your plant network for vulnerabilities is a critical step to lower operational risk and develop a roadmap to ensure your plant is protected.
---

Join Power Engineering International and Baker Hughes in this live online interactive session where you will have the opportunity to ask the panel your burning questions around cybersecurity.
What you'll learn:
• Elements of what make an effective cybersecurity assessment
• How to construct an actionable roadmap of prioritised mitigations that improve your plants security
• How a cybersecurity assessment can keep you ahead of regulatory compliance and future legislation (Executive Orders, IEC 62443, NERC-CIP, WIB, NEI)
• How to present to a decision-making body to obtain an expected Return on Investment and positive outcomes
Speakers:
Francis Cianfrocca, CEO | Insight Cyber
Chris Thomas, Global Services Technical Lead | Nexus Controls, a Baker Hughes business
---
"GetFundedAfrica is a technology-based, business information platform operated by Afriscaper Research & Consulting Limited with a mission to reduce barriers to funding for African businesses. GFA matches investor ready, African & African-Diaspora owned companies with global investors, leveraging market research, industry data and news aggregation"
Are you an entrepreneur? Share your story with us and get featured on our platform send us an email nichole@getfundedafrica.com
Emerging Opportunities In Growth Sectors Amid Covid-19 Crises
With the Covid-19 pandemic pushing the global economy (Nigeria inclusive) to record decline, creativity and innovation in goods and services have become very imperative and necessary, perhaps the competitive advantage factor. Opportunities for productivity and economic optimization abound in sectors like healthcare, agriculture and food, manufacturing, ICT amongst others. Read more